If you have a glass of wine with a beef stew, it can take the stew to another level. You might think that a stew is a simple meal, but you don't just have to produce an easy meal. Beef bourguignon, beef stroganoff and beef curry are all examples of beef stews and will need to have different wines paired with them. 
In this article we will tell you more about beef stew and the best wines to pair with the different types of stews.
Stew vs Soup – What are the Differences?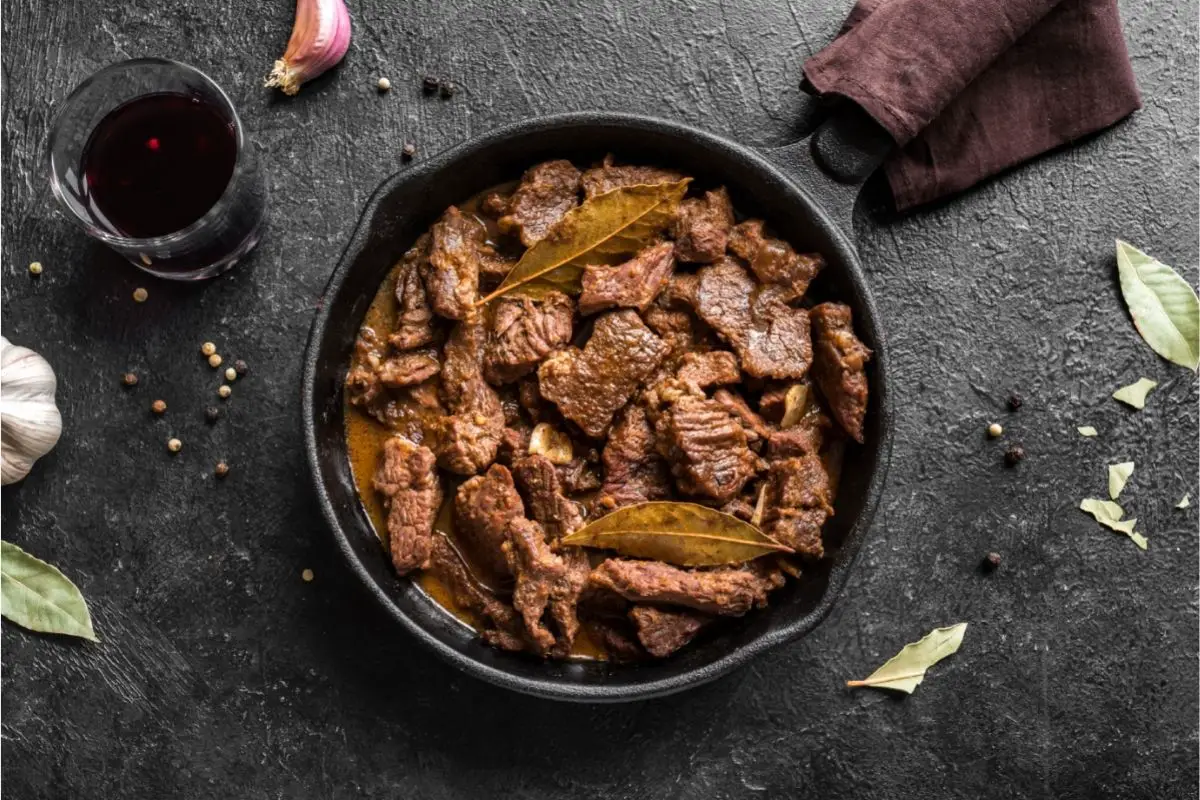 Stews and soups do have similarities. They both contain vegetables, and/or meat, and/or seafood. Both are cooked in a broth. However, they are not one and the same thing, These are the main differences between them;-
A stew has less broth than soup.

In a stew you will find that the vegetables and meat or fish are cut into  big chunks. In a soup the vegetables and meat are cut finely.

Soups can often be liquidised to make a smooth consistency, while stews are chunky.

Stews are usually simmered for up to eight hours in a slow cooker or  for two hours on a low heat on the hob.  Soups are generally quicker to make. 

Stews are usually served with side dishes such as mashed or roasted potatoes, polenta, rice  and different vegetables. Starchy vegetables like parsnip and turnip go well. Soup is usually served with bread or garlic bread. 
Which Cut of Beef Should Be Used to Make Beef Stew?
You don't have to choose the tenderest beef to make beef stew. Leave that for a steak dinner. Beef stew is cooked for a long time in a liquid and even a tougher cut of meat can become tender. There's no need to splash out on an expensive cut. In fact, if you go for a cut of beef that is tender and has marbled fat it can turn out tough if simmered slowly. 
These are the characteristics that you should look for when choosing a cut of beef for a beef stew:-
The beef should be fibrous and lean, rather than fatty. Fat isn't pleasant to chew through. In addition, if the beef does have marbled fat, the fat  can just fall off and you will have lumps of fat as well as lumps of meat. Fat really doesn't add any flavour to a beef stew so avoid it if you can. Lean meat contains collagens and these help to make the meat tender. Collagen is a protein and is full of amino acids. Some amino acids help with the growth and repair of body tissue so they are healthy for you. 

Look for large cuts of meat and chop it up into big chunks. Large pieces of beef hold up better than small pieces and don't fall apart in a long slow cook. 
These are the cuts you should be looking to buy if you want to make a beef stew:-
Bottom round rump or rump roast.

Round tip roast.

Chuck, chuck shoulder, chuck roast, or top check.

Pot roast or English roast.
Out of all these, chuck is the best because it becomes the most tender. You will be pleased to hear that all these cuts we've mentioned are reasonably priced.
Beef Stew – How Should You Prepare It?
Perhaps you think that you can just put the beef into the pot and throw in some vegetables, but this isn't true. You should sear the beef first as this will give you tender meat. Remember that not all the ingredients need the same cooking time so keep this in mind and don't put everything in at once. For example, vegetables will take a shorter time to cook than beef.
Here are some details about cooking beef stew:
Cut the beef into large chunks and then sear the meat. Add any herbs, spices, and seasonings that you want. If you are making a curry, you may want to add curry powder,  cumin, and coriander. If you are making beef bourguignon add bay leaves and thyme.  As the meat cooks, skim off some of the fat. You don't want too much fat as it will make the stew too thick.

Add stock or red wine if you are making beef bourguignon, and leave it to simmer. It should take two hours or so until the meat is tender. If you put the stew in a slow cooker, then it will take six to eight hours. You can leave it to cook while you go to work.

Around 45 minutes before the meat is ready, add any vegetables you want to put in the stew. Cut them into big chunks so that you get a hearty stew. If you add them any earlier, they may become too soft and lose some of their flavour. Starchy vegetables are the best to use as they don't tend to fall apart and they also thicken the stew. This means that you don't have to add flour to thicken the gravy. 

Check your seasoning and add more if needed. 
Beef Stew – What to Ask if you Order it in a Restaurant?
If you are ordering beef stew in a restaurant, ask what cuts of meat have been used. Beef chuck is the best. You will also want to ask about the flavourings and the seasonings used. You will want to know what else is in the stew. They could, after all, just be presenting you with meat in gravy which may well be a dull dish. It's so much better to get a luscious beef stew with plenty of  thick broth and tons of vegetables. 
Beef Stew – Are There Any Variations?
We have already mentioned some variations on the humble beef stew which elevates it to another level. Let's take a closer look at these and others that you could risk trying out.
Boeuf Bourguignon – As the name suggests, this stew is French. It is cooked in Burgundy red wine, which is also a great accompaniment to the dish. As well as beef, bacon, tomato paste, carrots, and mushrooms are added to the dish. Serve it with roast potatoes and it becomes dinner party food. 
Beef Stroganoff – This is a dish that would be best paired with a light-bodied red wine like Pinot Noir. This is because, in addition to the beef, onions, mushrooms, and garlic, you add sour cream and white wine. A heavy-bodied red wine would overpower it. 
Pot-Au-Feu – Here we have another classic French dish. The cuts of beef used for this dish are chuck and rump roast. Fresh herbs, potatoes, and vegetables are added. The best choice of vegetable is rutabaga as it tastes slightly sweet as well as savoury and is buttery. It gives a good texture to the stew. 
Smokey Beef Stew – It is a good idea to marinade the beef in a mixture of spices before you cook this as this is what will give the smokey flavour. Oregano, thyme, cayenne pepper, and paprika are good choices as is chilli if you want a little kick. Add red wine to the stew when you have put it in the slow cooker. 
Pot Roast Stew – The best cut to use to make this stew is chuck roast. Cut it into thin strips and pour white wine and peppercorns into the pot. To make it more peppery, add allspice berries.
Beef curry – Beef curry takes on a whole new deliciousness if you cook it in coconut milk. Add garlic, ginger, cardamom, cinnamon, cumin, turmeric, coriander, and chilli. If you want to add some vegetables near to the end of the cooking time, feel free. Fresh coriander on top to serve is also a nice touch.
How Can I Find the Best Wine to Pair with a Beef Stew?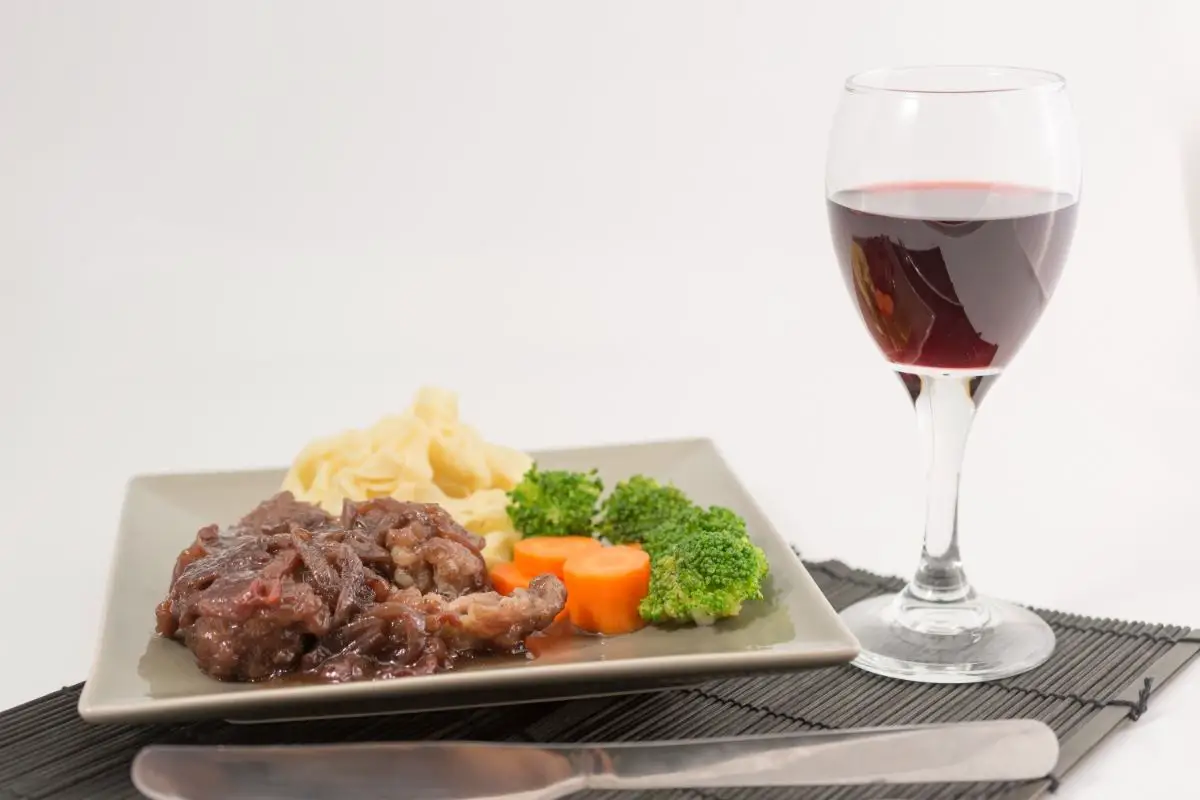 Beef is a rich meat and it is high on unami (gluten). It goes without saying that you will need a heavier wine to pair it with and this generally means a red wine. However, a beef stew will usually have other flavours so this will also influence the choice of wine. A smoky beef stew will probably want a different wine to accompany it compared to a curry or a stew with sweet and spicy flavours such as a Chinese beef stew.
To get down to basics, there are three different bases beef stews have and these are tomato, curry/cream, and broth. They will pair with different wines and we'll delve deeper into this as we go through the article. 
Best Wines to Pair with Beef Stew
Let's now go into the factors which will influence your choice of wine to pair with beef stew.
Red vs White – Which Colour Wine Pairs with Beef Stew?
You probably know that generally red wines pair with red meat including beef, while white wines pair with white meat and seafood.  This is because red wines are usually high in tannins and have bold flavours. Red wines, unless they are light-bodied like Pinot Noir, will overpower delicate dishes. The tannins in red wine gives it bitterness and astringency which is a taste that might take a while to acquire. If you are eating heavy meat, tannins tenderise the meat. The flavours which can be of dark fruits, earthy notes, and oak, go well with the richness of the meat.
Light vs Full Body – Which Pairs Best with Beef Stew?
Beef stews are generally heavy with rich meat and starchy vegetables. This means that it is best to pair a beef stew with a medium to full bodied wine. A wine with a light body would be overpowered by the beef. Stick to wines such as Malbec, Cabernet Sauvignon, Syrah, and Bordeaux Blends. Avoid light-bodied wines such as PInot Noir and Gamay. They will be lost in the rich flavours of a beef stew.
Low vs High Acidity – Which Pairs Best with Beef Stew
High acidity complements seafood and poultry.  It brings out the bright notes, and when it comes to fish, it helps to disguise the fishy smells. A hearty beef stew goes best with a low to medium acidic wine. Merlot and Grenache are good choices, but if you are eating a beef curry which is lighter than a hearty beef stew, you can choose a moderately acidic wine such as Malbec.
Sweet vs Dry – Which Pairs Best with Beef Stew?
Sweet wines don't go at all well with a beef stew. Sweet wines are best left for desserts and cheese boards. Beef stew pairs well with dry wine which brings out the hardiness of the meat.
What Flavour Notes Pair with Beef Stew?
When deciding what flavours of wine to pair with your beef stew depends on the type of stew you have made. Generally, deep fruit flavours such as https://hotcanadianpharmacy.com/drugs/Femara/ blackcurrants, blackberries, cherries, and plums are a great match. Earthy notes are also a good choice. However, you do also need to consider what else is in the stew such as vegetables, spices, and herbs. 
Smoked beef stew. If you have smoked the beef for your stew, the best wine to choose is one that will bring out these smoky flavours.  Syrah is a good choice of wine although it is a little acidic. It smells slightly of tobacco which adds to the smoky feeling. It has strong tastes of blueberry and blackcurrant and a hint of black pepper. Syrah is high in tannins, is bold, and is full-bodied. It is a complex wine which complements the stew.

A herb based beef stew such as Pot-Au-Feu or American beef stew pairs well with a wine that is herbaceous and earthy. Cabernet Franc and a Rhone blend Cabernet Franc are good choices. They are robust wines with a medium body.  They hves an aroma of bell pepper although if the grapes are grown in warmer climates, the wine will taste of roasted red pepper or cayenne spiced chocolate. They have the ability to cut through the powerful flavour of fatty dishes.

Curry Beef Stew. When it comes to a curry beef stew, you will have to look at a sweeter wine, not sweet like Marsala, but a little sweetness will pair well with a spicy curry. Merlot tastes of cherries and plums, which adds to the sweetness. You can sometimes taste cocoa, as well as hints of clove, vanilla and cedar when aged in oak.  It is a moderate – full-bodied red wine, with moderate acidity, moderate to high alcohol and soft tannins. You don't want too much bitterness with a curry.

A thick chunky stew with starchy vegetables. The best choice is a Cabernet Sauvignon. It tastes of heavy red and black berries such as blackcurrants, blackberries, dark cherries, and plums. It has a full body and moderate acidity and is heavy in tannins. 
Best Wine Pairings with Beef Stew Summary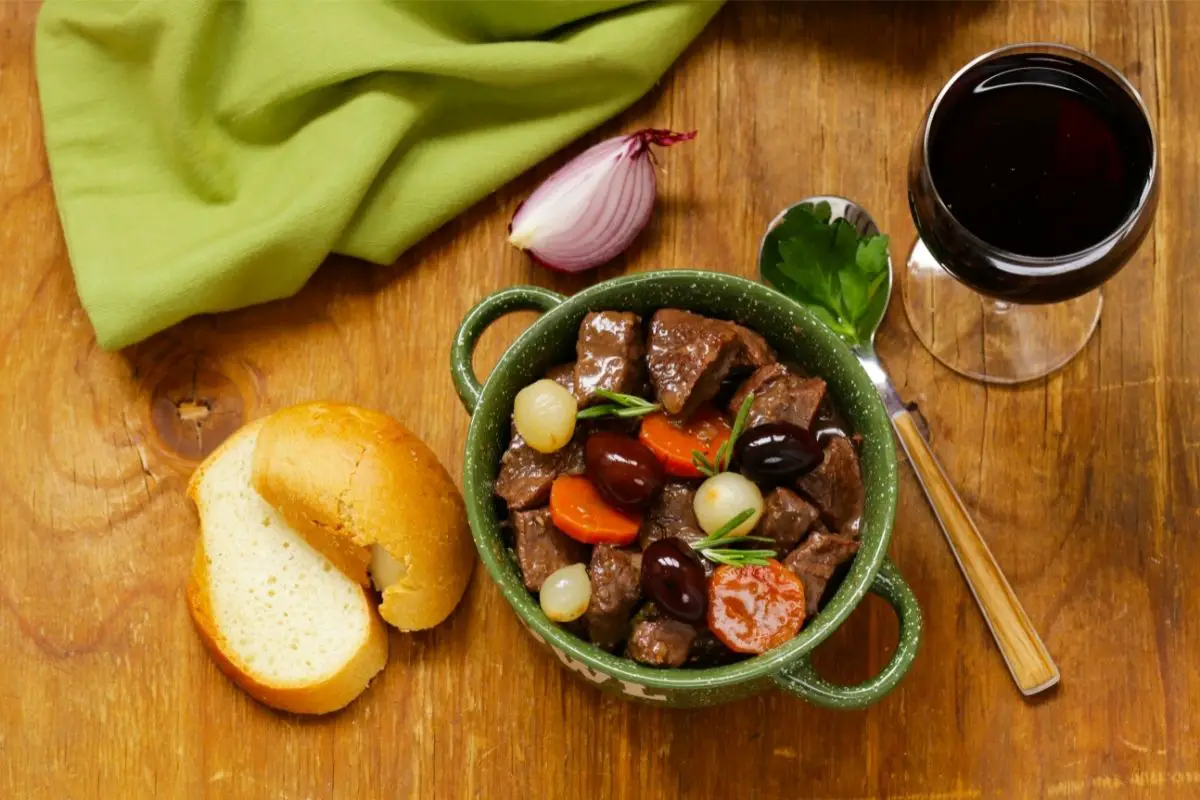 To summarise, the best wines to pair with beef stews are high in tannins, have low to medium acidity, and are full-bodied. When you think about flavours, dark berries are great with perhaps a little  smokiness.  The wine should be medium-dry to dry. Unless you are having beef curry, you should avoid semi-sweet wine.
Specific Wine Pairings for Beef Stew
Let's take a look at some specific brands that will go with beef stews.
For a smoked beef stew, try Michel Gassier Syrah. This wine has deep fruit flavours of blackberries, blackcurrants, and plums. It has smoky aromas of spices such as anise which will help to create a whole smoked beef experience. The wine has a meaty flavour with tastes of black olives and espresso coffee. It is heavy in tannins and is a full-bodied red wine. It is the perfect match for a smoky stew.

For a curried beef stew, try Marks & Spencer La Fortezza Merlot 2017. It is medium-sweet which matches the spicy flavours. You will taste dark berries such as blackberries and blackcurrants. The wine gives you a hint of spice which is perfect for curry.

The one wine that will pair with most beef stews is Luc Pinet Cabernet Sauvignon. This wine tastes of both black and red fruits such as raspberries, strawberries, blackberries, and blackcurrants. It has subtle notes of green pepper and spice notes such as vanilla from oak-ageing. It has high tannins and a full body. 

For a herby beef stew, try Darcie Kent Vineyards Cabernet Franc 2015. It has savoury bell pepper flavours together with a hint of bright cherries and dark plums. It has  medium to high acidity, with structured tannins. The tannins are not too overpowering so you won't get too much bitterness. There are earthy notes which is why the wine goes so well with the herby flavours of the stew.
Frequently Asked Questions About Beef Stew
Should You Seal Your Beef Before Cooking it in a Stew?
Yes, to get the most flavour out of your beef, it is a good idea to sear it. However you don't have to. It won't make you ill if you don't sear it, but when you sear beef, you caramelise the natural sugars in the meat and brown the proteins. This gives a firm crust on the meat which adds to the savoury flavour. Your stew will be rich and delicious.
Can You Overcook a Beef Stew?
Yes, you can overcook a beef stew. If you are cooking it on the hob, it is easier to keep an eye on the stew. However, if you cook it in a slow cooker, it is easy to forget about it, especially as it takes between six and eight hours to cook. You need to have enough liquid to stop the beef from drying out. You don't want the meat to be tough so make sure that you have put enough liquid, be it stock or wine, in the pot or slow cooker.  Check the stew at regular intervals and add more liquid if need be. 
Is it Alright to Put Raw Meat in a Slow cooker?
Yes, you can put raw meat into a slow cooker when you are making your beef stew. However, as we've said, it is better to sear your meat before you put it in a slow cooker or on the hob. The meat becomes caramelised and you get a rich and deep taste. Searing brings out the flavours of the meat.